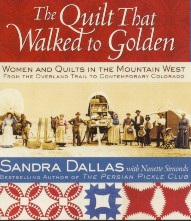 This new book, by well-known fiction and non-fiction historian Sandra Dallas (The Persian Pickle Club) is a tribute to Colorado's quilters, past and present, as much, if not more than it is to their quilts. Some of the text is based on their words taken from diaries, letters, newspaper's and family memories. It is not a documentation book, but an oral and social history which begins around the start of the Gold Rush in the mid-1800s. The stories told, some only a few sentences long, tell the social history of plain sewing for income or home use by women who had migrated to Colorado. Their life on the plains is described, and a hard life it was. Moving along an invisible timeline, Sandra discusses the transition away from quilting that took place in the mid-20th century and the revitalization of women's handwork in the 1970s. The book takes us to the present state of quilting in Colorado, the art quilt movement. How this trend began and what inspires the women, makes the last third of the book interesting even to non-Coloradoans.
The authentic sepia photographs are particularly distinctive and add tremendously to the book. Unlike the portrait or studio shot tin types and daguerreotypes often seen in quilt history books, these photos depict scenes from daily life and they are large pictures. They provide a visual record how of integral sewing, handwork and quilts were to families. Often the women are shown sitting in a small circle working on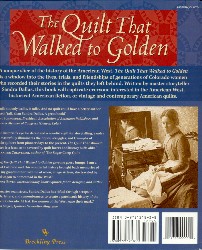 independent sewing projects, allowing the reader to feel a sense of kinship, perhaps even wishing she were there. A photo may take place on a porch, or bedroom, or on a picnic. In another photo the quilts form a tent; the floor, roof and bedding. This is not an answer to short term housing; from inside the tent you can see the stove's vent pipe going up from inside and out through the top of the "homey" tent. Some photos are taken outside on the Colorado range, and others are inside homes, on beds, in classrooms, and in shops. A piece of the history, related to sewing, household textiles, or quilts is depicted in every picture. Colored photos of 20th century quilts and quilters are included, as well as four quilt projects with templates.
Quilts, as we know, were often used as backdrops for photographs, until camera's changed in such a way that it was no longer necessary for subjects to be still for a long period of time. In the 1880s, cameras could be bought by non-professional photographers, making itinerant photographers as unnecessary as using quilts for backdrops. That's not to say some ladies didn't prefer their quilts to be a backdrop, and in some of these pictures, a quilt-maker is surrounded by quilts she has made over the years. One such woman is surrounded by 18!
A longer section of the book is appropriately dedicated to Eugenia Mitchell, an early quilt collector, quilt-maker, and founder of the Rocky Mountain Quilt Museum. Born in 1903, she had sewn and quilted through much of her hard life. Eugenia acquired many quilts. some museum-quality, over the years. She loved Colorado and wanted to preserve its history and the history of its women. Eugenia came up with the idea for the Museum in 1981 and donated 100 quilts from her collection, some of which she had made. The Museum opened its doors in 1990, and Eugenia worked as a volunteer until 1999 when Alzheimer's disease made it impossible for her to continue. She turned 100 in 2003, the year this book was written.
If there is a downfall of the book, it is in those instances, too many in my opinion, where quotes and bits of information within one paragraph or topic section jump around in time. The reader is made aware of this only if he or she looks at the footnotes located in the back of the book. Most readers won't bother to do so and will therefore assume that if the first quote or subject matter is from the 1860s, then the other quotes will be from the same source, and therefore the same era. This is why I refer to this book as creative non-fiction, even though it is not presented as a novel as the term has come to imply. I found this disconcerting and faithfully looked to the footnotes for orientation. For all but the last chapters on contemporary quilting, the text and the photos rarely relate to each other. After I became accustomed to the pictures not supporting the text they were placed near in time or topic, I stopped expecting it and was able to enjoy the book. Overall, the book took a casual approach to historical non-fiction.
Some interesting facts came out of the old diaries and interviews used in the book. For instance, women dyed feedsack material by soaking it in crepe paper; others turned their patchwork quilts so that the whole-cloth back was displayed on top because patchwork quilts used in one's home indicated they were poor, unable to buy their bedcovers new. The book furthered my understanding of how integral sewing was to pioneer women from the 1850-1940s. They used their needlework skills to make money to pay for the entire household's needs if they were widowed or abandoned, or when their husbands went to war. They would also trade their plain sewing skills for services they couldn't perform themselves or for food. Those women who had sewing machines were in particular demand and would profit from using them to do sewing for others in the town who did not have one. They made quilts on them too and became professional quilters without this being their plan or goal. They simply needed money, food and supplies, and this was one way to get them, in cash or barter.
Women were tough and capable and resilient to say the least, but they were not heartless or cold. A brief story is told of a quilt, named the "Heartbreak quilt" by its maker after completing it, when she discovered that the appliquéd fabrics she used were not colorfast.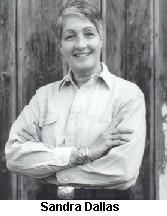 This book is an enjoyable read. Some of the women's stories were so compelling I wanted to know even more about their life and their sewing, but they were common women and little is left of their thoughts and life experiences. Yet these are women who make us proud of our female heritage. The more famous and affluent Coloradoans, like Baby Doe and Evalyn Walsh McLean, could be described in more detail as more has been written about their affluent lives. The photos spoke a thousand words, and alone are worth the price of the book.


A portion of the purchase price goes to the Rocky Mountain Quilt Museum. This is a win-win way to help support a great quilt museum. You can buy the book directly from the Museum or from Amazon.com
Book publishers and authors: if you would like your book reviewed on this Website, and it falls within the scope of topics, please contact me personally here.