Quilt History
Today's Quilt Historians Underground Railroad
Women at Work
---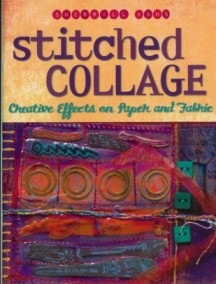 This is an inspiring colorful book to be sure. The art pieces are abstract and modern art style wall quilts not run of the mill. The collages are all about embellishments placed on raw edge abstract backgrounds. Sherrill shows various stitches by hand and machine, and use of plastic, stamps, beads, buttons and more to decorate the fabric or paper.

Experimenters and those who don't want patterns to follow because they enjoy discovering on their own will really like Sherrill's book. Her book is a gallery and technique book, not a pattern or project book. I would call it an idea inspiring book and a reference book. She doesn't only decorate wall pieces, but other items including purses, clothing, book covers, t-shirts, and scarves.

The photos of techniques are clear and big and there is just the right amount if text to teach the ideas she presents for use with paper, fabric, plastic, and threads or a combo of all. There is a resource list and detailed supply list with product names she recommends.

Click to see larger view

I imagine an intermediate art quilter knowing much of the information in this book, but beginning quilters and those new to art quilt techniques would benefit from her artful techniques and easy reading instructions and recommendations. I didn't think of quilts when I read it, I thought of wall art and art pieces like postcards and trade cards and sculptured fabric art.

Sherrill was an art educator for 30 years in public schools, then taught nationally for a variety of businesses and educational institutions. She owns Impress Me, a rubber stamp company , designs fabrics for Robert Kaufman, has a paint line with Jacquard and more. In this book she is a collage artist. Her work is seen in galleries and made on commission.

© 2009 -2011 Kimberly Wulfert, PhD. Absolutely no copies, reprints, use of photos or text are permitted for commercial or online use. One personal copy for study purposes is permitted.
Fabrics & Dyes
Rugs & Textiles
Books & Reviews
Resource Links
Home
---
Visit my
online shop ...
for quilt history lovers!
* Gifts & Jewelry,
* Books & Stationery,
* Archival Supplies,
* DVDs,
* Quiltmaker Supplies.