Quilt History
Today's Quilt Historians
Underground Railroad
Women at Work
---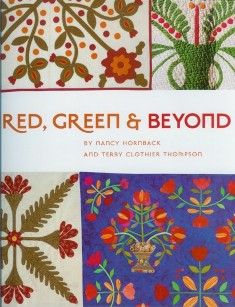 Nancy and Terry wrote their new book as a sequel to their first book, "Quilts in Red and Green and the Women Who Made Them," 2006.

This book's emphasis is on reproducing antique red and green appliqué quilts in a 21st century non-traditional manner, through method, design or fabric choices. The outcome may be traditional or not. The point, the authors say, is to encourage you to come up with your personal take on the quilts they display -- the antique quilt and a modern version. There are few with solid red and green fabrics. Instead choices of some of the featured modern quilt makers were black backgrounds, hand-dyed fabrics, batiks and non-traditional color combinations.

Terry provides the instructions for reproducing the antique version but hopes you push the pattern to its limits instead. Nancy provides historical background on the antique quilt and the maker, if known. Original old photos are included with other items of interest to the quilt's history. This is much more of a pattern and inspiration book than the first, which is an equal balance of biography and patterns. This book will appeal to non-history types as well as reproduction quilt makers who want the encouragement not just to replicate the old quilts.

Red and green appliqué on white grounds were most popular from 1840 - 1870. Women usually made them with some event or someone special in mind, as the justification for all the time they needed to make this style of quilt. Genuine Turkey Red dyed fabrics came at a price because they were imported into the US until the Civil War ended. Red and green quilts, as this style of appliqué quilts are named, were often quilted with fancy patterns and featured wreaths and garlands. Intricate sewing skills were needed for the 19th century handmade red and green quilts. After sewing machines were more commonplace in households, women might have sewn straight-edge appliqué on the edges, after basting them down by hand.

Many variations of 19th century red and green quilt patterns exist, with few that are identical. Some add touches of orange, yellow and or pink. The borders vary; some do not have borders, others have vines, others have swags.

There are seventeen quilt artists with their work featured in this book, and I liked hearing from the quilt maker and learning about their background and intention. Nancy and Terry provided the inspiration quilts and invited them to pick one to use as their influence, with no limits on how or on the outcome, and three of them quilted the tops of the new quilt. The variety will generate new ideas for the reader.

My personal favorite for the modern version is the Mexican Rose, hand appliquéd by Gail Hand, while Kim Hull did the quilting by machine. (page 36) Gail chose colors of Mexico and tropical beaches (now you know why I like it), aquas and magentas in variegated solids on white. The appliquéd shapes in the border are different and whimsical on the original version, and Gail took them a step further by incorporating the design into her quilt, leaving the borders only quilted with a slightly scalloped edge, magenta narrow inner border and binding. The modern reproduction looks vintage, early 20th century, to me. It is pretty and delicate compared to its older cousin, which I also really like. Ilyse Moore made a more traditional version of it, in red and green that is found on page 57 -- the 'gallery of quilts' section of the book.

Nancy's descriptions of the antique quilts are detailed - down to the quilting patterns, which I really appreciate since it isn't always possible to ascertain from photographs, which in this book are professional, clear and bright. All the templates are in the back of the book, while instructions and yardage requirements are located with the quilt's photo. No instructions or patterns are given for the modern versions.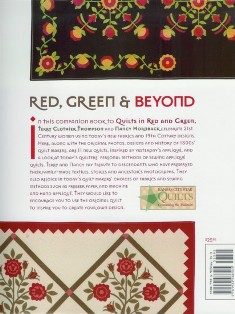 If you like to make appliqué quilts, by hand or machine or a combination, and enjoy designing your own pattern, this book will benefit you. If you prefer to remake the original version, then you will have 14 patterns to choose from, with templates in actual size as well as quilting pattern templates. The colorful and whimsical cover gives you a smattering of what's inside. The book is more quilt making oriented than historical, but their first book fills that need beautifully.

---
Book publishers and authors: if you would like your book reviewed on this Website, and it falls within the scope of topics, please contact me personally.

© 2008 - 2015 Kimberly Wulfert, PhD. Absolutely no copies, reprints, use of photos or text are permitted for commercial or online use. One personal copy for study purposes is permitted.
Fabrics & Dyes
Rugs & Textiles
Books & Reviews
Resource Links
Home
---
Visit my
online shop ...
for quilt history lovers!
* Gifts & Jewelry,
* Books & Stationery,
* Archival Supplies,
* DVDs,
* Quiltmaker Supplies.