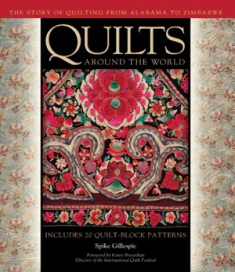 Have you seen this book yet? On the cover is a detail view of an embroidered quilt, or is it? Like the cover, the book is full of entertaining tidbits of historical information about quilts and quilting around the globe. They are interspersed within concise chronological summaries of quilting in the countries and states Spike Gillespie highlights in her new 351-page book, with 300 photographs. I found it to be enjoyable and interestingly written, with good quality photographs throughout.

I think what added to the book's personality and set it apart from similar quilt books is that Spike is a professional reporter rather than a professional quilter or historian. She read the best quilt history book(s) written about a country, interviewed the top expert or experts in that location, and blended facts and anecdotes together.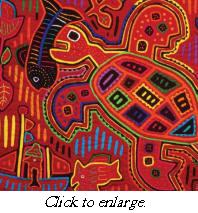 With each chapter focused on one country or state, Spike wrote about the quilts and other significant needlecraft textiles handmade there, when the craft began, due to what influence, how their quilt styles progressed and changed, how their quilt culture grew, where they excelled and what their quilts look like today. Sometimes she asked a local expert to write the chapter, or part of it. Sometimes there wasn't much to say as the country didn't have much of a quilt culture, so a page was enough. A reporter reports on what is so, and gets straight to the point.
The United States chapter has many subchapters to comprise about one quarter of the book. She covered every angle of quilting and quilts made in the US, current and from the beginning. Also included are important US organizations, movements, ethnic/cultural varieties seen there and capsule size summaries of notable events. For example, current controversies such as the myth of quilts as messengers of symbols on the Underground Railroad, the Quilter's Home magazine unmentionable article, and the bleach thrown at an Elvis quilt on display at the International Quilt Festival. I call these tidbits. These are short and concise and grouped on two pages titled "Quilt Controversies, scandal and intrigue in American quilt making."
Spike's presentation of quilt history can turn those people who don't think history is interesting into people who do and who want to learn more. History doesn't mean old and dusty, it means past events including those that happened yesterday.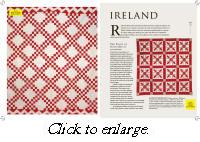 It is the tidbits from different countries that I found compelling, especially from guest authors talking about their local guild and exhibits. These women are recognized experts in their craft or business. They add a down to earth friendly sense of their area's quilters, past and current.
The majority of the patchwork and appliqué block patterns provided are easy enough for beginners to make. They are blocks, not quilts, representing various countries.
The chapters on exotic (to me) countries contained information completely new to me, but those countries I know well, not so much. But as I said, the writing was entertaining and concise. She rekindled my memory by putting information into her reporter's perspective which broadened my historian viewpoint etched in my mind.. It also reminded me of books I have in my library that I'd like to browse again.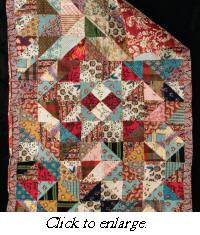 Spike, the reporter, definitely chose top researchers and quilt authors to read and interview about their country's quilts, such as An Moonen of the Netherlands. Spike did all the work of compiling information and you receive all the joy of reading about the development of quilt culture and trends around our planet.
Quilts Around the World would make a great gift for your daughter, granddaughter or a friend, whether they are quilters or not because it's so interesting. I would go so far as to say it includes pop culture of the times we live in as quilters in the world.
I left you still wondering about the embroidered textile on the cover. Check out the chapter on China and you'll discover it is the top section of a vintage baby carrier. What?
Amazon has the Look Inside feature for this book and it's priced under $25.00.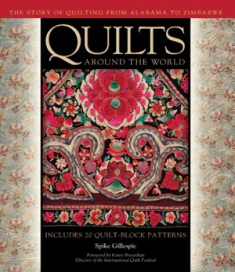 Quilts Around the World

Hardcover: 352 pages
Publisher: Voyageur Press; First edition (November 21, 2010)
Language: English