Return to part one - beginning of article
Personal Interview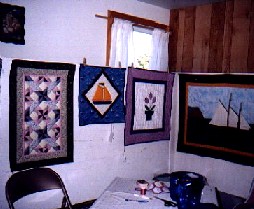 A great deal more can be told about the quilts from Nova Scotia, and I highly recommend Old Nova Scotian Quilts

I learned more from talking with Janet Gordon, a native of NS in her youth who spent much of her career in Ontario and who returned home again after retirement. She lives near Hall's Harbour about 60 miles from Halifax on the Bay of Fundy where she has opened an artist's studio and shop. Janet sells quilts and cross-stitch quilt labels she makes by hand. Several local artisans use her studio to market their quilts and hooked rugs.
Janet's website is http://www.novascotiaquilts.com. I want to thank her for providing pictures of Nova Scotia and her work to accompany the excerpts I have gathered from our conversations in the last couple of months.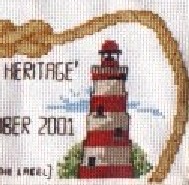 "I only lived in Halifax until 1966 and although I did a little embroidery - I had been taught that parlour trick at the convent school I went to as a child - we learned French and embroidered tea towels among other things - later, I was more concerned with university and having a roaring good time - not necessarily in that order. Later still, I was busy working and raising kids, but I did acquire more practical needlework skills like mending and machine sewing. I didn't return to NS until 1985 and settled where I am now, which is still a somewhat isolated area, but attractive to tourists."
"As I say, my interest in quilting has only come about over the last 6 or 7 years, so I am probably writing about the area I know best when I set it right here along this road.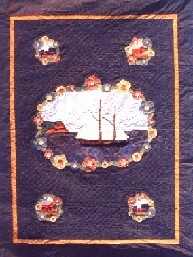 One of my former neighbours, who less than a year ago entered a nursing home in her late 90's has been one of the foremost primitive rug hooking artists in Canada. At one time, she and her husband who had a farm and woodlot on a backroad near here, moved to my present house so that their grandson and a foster child they were raising could go to school. Just recently in going through her things, her son has found a small cache of wonderful quilt blocks of hers which were probably pieced 35 years ago in this house. Another neighbour to whom the blocks were given, and I plan to set the blocks and complete the quilt this winter."
"Having been raised in Halifax during the war, I have clear memories of the shortages and grittiness of a poor province in wartime and on into the 50's.
The age of sail and steamship lines was drawing to a close, and with it easy communication with the "Boston States".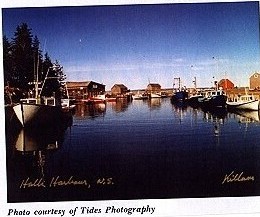 Other means of travel were expensive and difficult - roads were mostly unpaved and unimproved, cars were rare in rural areas, and buses only connected major points. Train travel was at its zenith, but getting to a train station could present a challenge in many areas.
--- high tide ---
Women were mostly limited to the radius around their homes that they could easily travel on foot. For many of them, their sons and husbands were frequently away for long periods of time, either at sea or in the lumber woods. This put more of a burden of family work and responsibility on their shoulders, but also gave them freedom from direction as to what they did with their time! Rural areas were more heavily populated at that time, so it was common for small groups of women to meet together.
In this setting, handwork of all sorts continued to flourish and ideas were freely shared, as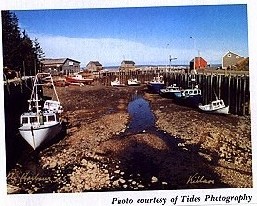 were the occasional new patterns that were gleaned from the Family Herald, Star Weekly or from the Mountain Mist labels. These patterns were frequently ones originally published in the Kansas City Star.
Mainly, then, our local quilts have followed the trends of the rest of North America, and because we tend to be a conservative bunch here, the patterns have appeared time and time again.
--- Low tide ---
At the small local quilt show that I co-convene, we have shown Dresden Plate quilts from the depression, with the soft, sweet pastels against unbleached muslin; from the fifties (still in the possession of the original quiltmaker) in eye-popping turkey red and mustard yellow; my daughter's subtle ecru, brown and gold calico Dresden made for her by my mother in the 70's; and a beautifully organized scrap Dresden with appliquéd tulip and vine pattern done recently by the show's co-convener Grace Vaughan, my friend and neighbour.
In rural areas of Nova Scotia, the basic skills and knowledge required for quiltmaking have never died out. Although quilt guilds have not yet expanded much beyond the Halifax area, and we are mainly self taught; we have ready access to all the new tools, books patterns and fabrics, which we use to the fullest. Many of us, as well, have access to the internet. Our work, however, is still informed by traditional methods and styles, and by our own particular characteristics of economy and understatement."
"My father was the only member of his family to emigrate from England around 1907- so nothing of a household nature came with him as he was a young bachelor. My mother's mother's household "stuff" was washed away off a boat landing in Florida - she had just re-married to a strawberry farmer in Florida - during the 1929 hurricane and only the few items she had left with my mother survived."
"The only remaining textile I have from my family is two narrow widths of a cream, handwoven blanket sewn together. This came from my great-grandmother on my mother's side - she died in her 80's around the time I was born in 1938. It was spun by her and then woven by her, the wool from sheep on her farm in Newfoundland - close as I can figure around 1875. It was on my bed as a child as was a sugar sack spread with butterflies appliquéd on it. I still remember the texture of both textiles."
Mid-18th Century into the 20th Century
"Americans are not aware that Nova Scotia was the '14th colony' in British North America, and could have gone with the other 13. Delegates were sent from here to the early conventions that resulted in the Declaration of Independence, and there was rebel activity in the NS - NB border area which resulted in a few hangings and imprisonments. What turned the tide against rebellion was privateering where an American ship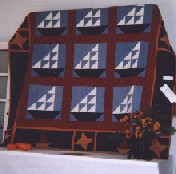 would prey on local ships or sail into small settlements and take everything that wasn't nailed down - it wasn't much, but was all the locals had and they didn't take kindly to their American relatives making off with it! Hall's Harbour which was not settled at the time was the headquarters for a Captain Hall from the US who made use of knowledge acquired from local relatives to sail around into Minas Basin and lift everything he could find. Hall was run off by a group of valley residents who came overland and surprised him in his winter camp.
The expulsion of the Acadians or le grand derangement as it is called in French had taken place partly because New Englanders wanted to expand settlement into the cleared and extremely fertile and rich land occupied by the Acadians in the Annapolis Valley and on huge arable marshes at the Nova Scotia -New Brunswick border. The wealthy trading and professional class had arrived quickly in the 1750s from what to this day we call "the Boston States" and this had cemented the relationships between the Eastern seaboard of the US and Atlantic Canada. These traders supplied any luxury goods that came into the province and would act as their customers' personal shopper in Europe and the Boston States. By 1760 the land was pacified enough to be attractive and safe for settlement and the work of bringing more land into cultivation."
1908 rural street in Lunenburg, Nova Scotia 1871 city street in Halifax, Nova Scotia

Women's store window in Halifax - 1871
"My area - the Annapolis Valley - was settled almost exclusively by the people we call New England Planters, and their names are still recognized today. My home is on land which was part of an original land grant and the house dates to early 1820's. The land I'm on is located on the North Mountain near the Bay of Fundy and would have been woodlot granted in conjunction with farm acreage and diked land on the valley floor. It would have been settled by 2nd generation or third generation planters as the farms in the valley became too small to support everyone. and the younger members had to move out. I do love my old house, but keeping it warm and in good repair is a trial! It is a classic New England Cape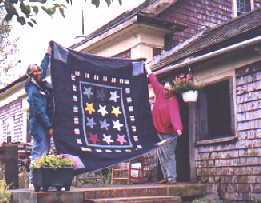 style house - again a pointer to the New England Planters."
"Your next question - where the fabric came from - you're quite right - New England and Britain. As a matter of fact during the American civil war there was considerable "looking the other way" and covert assistance to ships from the south that were trying to run the blockade and continue to supply the cotton mills of Manchester England. On more than one occasion, blockade-runners slipped into Halifax Harbour to avoid pursuit from the US Navy, and slipped out again when the coast was clear."
"We have always raised some sheep in Nova Scotia, but due to predators such as bobcat, wolf, bear and today feral dogs and coyotes, little large scale sheep farming exists here. Our spring is late here, too, and makes lambing very difficult. The exception was an area in the southwest of Nova Scotia where the micro climate is much more moderate and there are a large number of offshore islands where larger flocks could be pastured safe from predators and could derive the dietary benefit of browsing on seaweeds. As a result, a small, but thriving woolen mill operated at Barrington during the 19th and early 20th century. It is now part of the Nova Scotia Museum system. In addition, there were many carding mills in the province, but they were mainly adjuncts of other mills - flour and/or woodworking and local people brought their wool to have it carded and then went home to spin it themselves. The resulting fibers were used for home production of knitted and woven items. There are still several woolen mills in the maritimes that produce rough heavy knitting yarn in wonderful colours. This wool is still inexpensive and ubiquitous - one local thrift department store carries a full range in our nearby town. If anyone wishes to access this wool, email me and I will forward a URL.
I really don't know much about linen- I know flax was grown, therefore it must have been used, and most probably as the warp thread in fine woolen cloth or homespun. Linseed oil was in demand for the manufacture of oilskins."
"As far as I know, there was a large hiatus between farm produced textiles such as wool and linen, and the manufacture of cotton locally, which didn't begin until around 1900-1920's and was probably heavy cotton suitable for bags, clothing protectors and as a basis for oilskins, which were manufactured here. We were just too close to the cotton mills of New England to need to develop in that direction. We still, however, have a lively business in manufacturing Long Johns for obvious reasons."
"During the age of ship building, sailing and coastal trading up and down the Atlantic seaboard to and from the West Indies was very common. It was salt cod potatoes and wood down, rum and molasses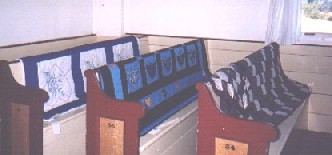 and spices back (Nova Scotians to this day are addicted to ginger - ginger beer, preserved candied ginger, ginger ice cream, ginger cookies etc etc) with stops along the way to pick up items family, friends, neighbours and local traders might ask for. My mother had a little song she used to sing that went: ' Uncle George has gone to town to buy I some cotton, if he don't get the flowery kind, I hope he brings I nothing.' She adored 'the flowery kind'."
When I asked about about quilters in Nova Scotia today, Janet summed it up nicely:
"We do tend to be an independent lot around here - We have had to co-operate with one another out of necessity and that has led to a lot of interesting accommodations. We also tend to be a very inventive and creative bunch and good at solving problems in unorthodox ways. In rural areas of Nova Scotia, the basic skills and knowledge required for quiltmaking have never died out. Quilt guilds have not expanded very far beyond the urban area surrounding Halifax. We are mainly self-taught; we have ready access to all the new tools, books, patterns and fabrics, which we use to the fullest. Many of us, as well, have access to the internet. Our work, however, is still informed by traditional methods and styles, and by our own particular characteristics of economy and understatement."
Janet can be found quilting at:
Hall's Harbour Handcrafts and Quilt Studio
Nova Scotia Canada B0P1J0

Janet@novascotiaquilts.com

Http://www.novascotiaquilts.com

Return to beginning of article