Quilt History
Today's Quilt Historians Underground Railroad
Women at Work
---
New Pathways into Quilt History written by Kimberly Wulfert, www.antiquequiltdating.com

Book Review by Kimberly Wulfert, PhD

New Children's Book Featuring a Prize Winning Quilt
Mother Earth and Her Children,
A Quilted Fairy Tale

Illustrated with a quilt made bySieglinde Schoen Smith
| | |
| --- | --- |
| Written in 1906 by Sibylle Von Olfers | Translated from German to English byJack Zipes |
Simply having your quilt selected for exhibition at the International Quilt Festival in Houston is an honor and a thrill, but to win the Best of Show, well, there are few recognitions awarded higher than that for a quilter in America. The winning quilt of the 2006 Festival provides all the pictures in this delightful young children's book.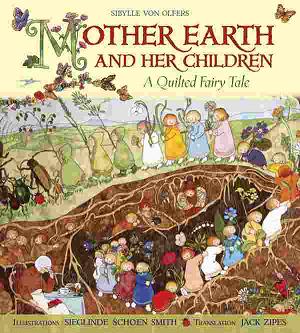 Sieglinde Schoen Smith takes the traditional quilt community to an uncommon form of an appliqué quilt, due not only to its visually complex and voluminous top, but because she also applies a great amount of crewel embroidery, French knots and other decorative stitching, which are all done by hand. In fact it is a completely hand stitched appliquéd pictorial quilt that tells the fairy tale story she most loved while growing up in Germany. Using large appliqué and embroidered letters she puts the title of the book across the top of the quilt. Close range pictures in the book cover the entire page and at first glance appear to be painted or colored drawings.

This is a rhyming story for pre-school age children and up. It is translated here for the first time into English. Noted folklorist Jack Zipes was chosen to bring the words of this classic German fairy tale to children everywhere and Sieglinde's quilt would show the story.

It's no wonder she liked this story as her grandmother taught her to sew when she was three years of age and she has never stopped. She made her own clothes growing up and after immigrating to America in 1963 she sewed and designed clothing for children. Several years later, wanting something new, she switched to designing mannequins and teddy bears. Finally she became the curator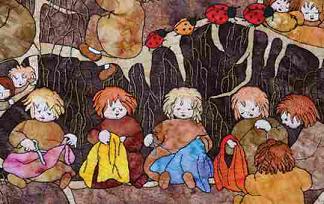 of a museum she started because of her love of Hummel figurines, the Hummel Museum of New Braunfels, in Texas. She dedicated it to the work of a German nun, Sister Berta Hummel, who inspired the celebrated Goebel figurines. In fact, Sieglinde had become a child model for the Sister when she was 21 months old; her father commissioned the Sister to do her portrait as a Christmas gift for his wife in 1942. When she and her father went to the church to pick it up, the Sister was inspired by her again and made a charcoal drawing as she "waddled" over to her portrait. Later this too was used by the Goebel artisans.

What is most amazing to discover, given the exceptional quilting skills evident in this quilt, is that Sieglinde had not been a quilter before she started making this one in 2002. Her first attempt at quilting began for the saddest of reasons, the unexpected death of her adult son, John Steven Taylor. She wanted his name to be somewhere else besides his gravestone, so she embroidered a pillow. For some unknown reason she says, she quilted the background around his name. She had never quilted before. It took her 366 days to complete it.

A friend suggested she make a quilt and her mind turned to her favorite fairy tale, and she wondered if she could turn a drawing from it into a quilt. She chose the center page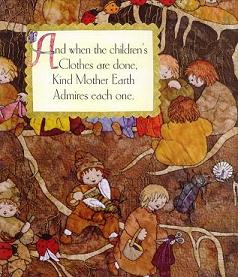 of the book and began to make the quilt and found it took on a life of its own. She kept making it until all the tiny children, depicted in fabric and thread, were seen sewing, mending, gardening, playing and cleaning and telling the story of the four seasons, the circle of life. This seems fitting for a mother in mourning. This made a quilt 85 inches long by 50 inches wide, and all her fabrics were Hoffman batiks. The border is plain except for a graceful scalloped edge, and it is the only area of the entire quilt that is not embellished in an intricate manner.

The words in the book are written in a large font inside white boxes sized to the space the words require so that the remaining space on the page is filled with different sections of the quilt. Each section detailed shows the activity the tiny girls are engaged in during a particular season. It will be enjoyed by all ages.

A few words from the inside flap describe the fantastical nature of some of the activities the quilt children engage in –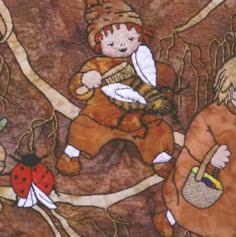 "Winter ends and Mother Earth wakes her sleepy children. Soon, the little ones are busy. They dust off the bumblebees, paint fresh coats onto the ladybugs, and rouse the caterpillars from their cocoons. The children make a colorful procession up through the earth, where they bloom into the flowers of spring."





Breckling Press publishes this book which will be out in October. You can pre-order it here: Mother Earth and Her Children,A Quilted Fairy Tale
Reading level ages 4-8

Read or view more here . . .

---
Book publishers and authors: if you would like your book reviewed on this Website, and it falls within the scope of topics, please contact me.

© 2007 - 2015 Kimberly Wulfert, PhD. Absolutely no copies, reprints, use of photos or text are permitted for commercial or online use. One personal copy for study purposes is permitted.
Fabrics & Dyes
Rugs & Textiles
Books & Reviews
Resource Links
Home
---
Visit my
online shop ...
for quilt history lovers!
* Gifts & Jewelry,
* Books & Stationery,
* Archival Supplies,
* DVDs,
* Quiltmaker Supplies.