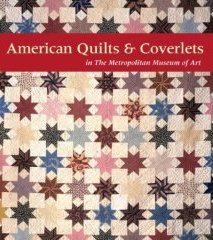 A new source for quilt history research and material objects is the updated and expanded edition of the 1990 book with the same title. It covers all the American made quilts and coverlets presently in their collection. If I may be blunt, don't clump it in with coffee table books because of its size and large photos. Don't lump it in with museum books with excellent photos and brief provenance but no historical context. Instead put it on your shelf next to Orlofsky's "Quilts in America" and Kiracofe and Johnson's "The American Quilt," the American Folk Art Museum's "Glorious American Quilts." by Warren and Eisenstat, and recently "Quilts in a Material World" by Eaton and quilts and textiles at Winterthur museum. These books are ones I turn to repeatedly as reference books for history of quilts made in America, They evolved as they did for reasons related to the Industrial Revolution beginning mid-18th century in England and at the end of the century in America as it pertain to textiles and their prints.

The Museum's collection is predominately from the northeastern states, New York, Pennsylvania, New Jersey and New England. The "highlights" of their collection are divided into these sections: appliqué and pieced, including crazies, a BAQ, and Amish; whole cloth, including wool, chintz, whitework, and toile; woven coverlets; and embroidered coverlets that include bed rugs, whitework and blankets. "Materials and Techniques of American Quilts and Coverlets" by Elena Phipps is another chapter with useful details about dyes, printing methods and weave structures with excellent detail photos to illustrate Phipps' points. For example, Phipps divides synthetic dyes in two groups, synthetic and fully synthetic; the mineral dyes, chrome yellow and Prussian blue, are synthetic dyes. In 1856, William Perkins invented a coal tar dye, which was the first fully synthetic dye, and named it mauvine based on the color.

The book ends with the catalogue, with two pictures per page and file information covers the last seventy pages of the book. Information like this is gold if you want the textile details, accession number, their notes and who gave it when, for 216 total pages. The index is laid out well, with bolded pattern and style names, useful!

The featured textiles include large detail photos of incredible detail, seeing stitches, signatures, fabrics and woven sections of the coverlets. My favorite section is the whole cloth (they spell it as one word) quilts because they are simply spans of gorgeous materials. Strippy chintz quilts are in here too. Eagle quilts and patriotic and Centennial textiles are included throughout the categories of textiles represented.

The women or families associated with the highlighted items have their story told and pictures, letters and ephemera are included on occasion. Here' an example of how this book and others share our American women's history, using an analogy of mine; where today we would test our new cell picture phone by sending a picture we just took with it, in 1866 a woman wrote this to the man she was courting-

"My Friend, having a new pen & being anxious to test its qualities, I don't know as I could do it better than by writing you a valentine; for you know or ought to know that today is the day sacred to St. Valentine….Did I say I would write you a valentine? Well I think I will not (for if I did it would be the first I ever wrote) but instead will try to write a plain common sense letter…" (p. 40)

Tracking the maker's story via clues in the textile and looking at it through the material culture of its day, made for enjoyable reading and was exemplary of the deductive reasoning necessary in quality quilt research books and papers. Questions must be asked when they arise, and answered only if supportable with primary evidence and this can take years.

There is a Federal style embroidered blanket, dated 1822, made of black wool with wool yarns in natural dyed primary colors forming large feathered paisleys and exaggerated cornflowers, palmettos and thistle cover the top ion serpentine vines with swags and tassels around it. All of the motifs are large. In each bottom corner is a tiny embroidered evening star quilt block with red star points and yellow probably French knots in the middle square. It is so charming and to my eye, a rare artifact.

Other embroidered textiles in the book are equally impressive and unusual to south western U.S. eyes (I live in southern California) where stunning and colorful geometric Indian blankets reign. The northeastern states preferred curvilinear patterns of light with dark contrasts or Jacobean style florals. So the one embroidered coverlet from Yucatan, Mexico, 1786, was quite a surprise. Peck explains that its wavy appearance from embroidery stitching is due to the silk thread being used in its unspun state. It looks more like velvet than stitches. (p. 200-201)

They have a BAQ a.k.a. Baltimore Album Quilt, ca. 1849, silk velvet and cotton. The maker is unknown but Mary Hergenroder Simon is the attributed designer. The designer was once thought to be Mary Evans. Recent findings about the Mary Simon vs. Mary Evans as BAQ designers and kit makers are unfolded here. (p.56-59)

Marion Cheever Whitesides, known for her appliqué storybook quilts, made a crib size Alice in Wonderland quilt in 1945 when the Museum commissioned her to do so for their collection. Their interest was due to many inquiries at that time coming to the Museum about contemporary quilt making, and yet they were lacking modern examples. Their Textile Study room thought it would "provide a useful piece for study purposes." (p. 114-115).

Can you tell I like this book? From the perspective of both a self-proclaimed connoisseur of antique quilts and a fact freak, it fills me up. If offers interesting reading, visual stimulation, quotable info, and personal histories about quilts and textiles made in America.

You can order this book fromAmazon.