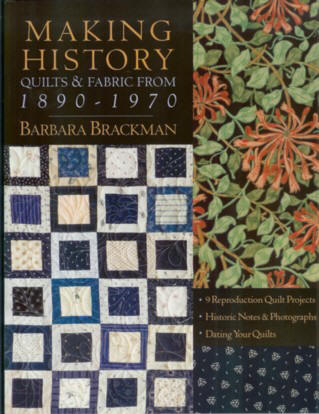 If you want to learn to date fabrics found in quilts and cotton clothing, then this book is a must have. With this book, Barbara Brackman essentially finishes her update of Clues in the Calico, (1989). It is the sequel to her book, AMERICA'S PRINTED FABRICS, 1770-1890s (2004) (for my review). MAKING HISTORY Quilts and Fabrics covers the topics in the same detail and stylistic manner for the years 1890 to 1970.

If I were to use one word to describe the book's text, it is concise. She gives us a great deal of meaty information by combining period fabrics used for clothing, interiors furnishings, and quilts with interior and architectural design schools and wraps them into a synopses of their influence on patterned fabric's scale, color, weave and print. Barbara writes that her personal mission when doing research for this book was the discovery of why the look of quilts changed so much in the early 20th century, compared to the years before it. From 1920 to 1930, she notes another big change. She turns to art history for some of answers. I won't describe this here - you will enjoy reading about it yourself.

Making History features nine quilt projects. They are unique quilt patterns, in that some reflect the interior design style of the day, even though not many quilts in those styles were made at the time. The patterns are derived from highlights in an era's designs. Often embroidery was the favored needlework. Of major exception were the quilts Marie Webster designed and made, starting in the first quarter, which were inspired by the Arts and Crafts movement.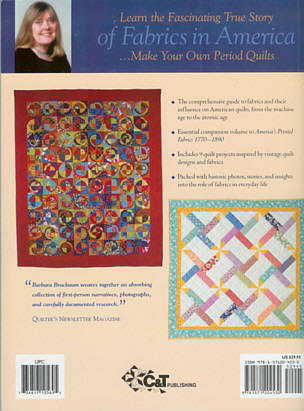 Some of the styles that Barbara describes are the Aesthetic, Arts & Crafts, Vienna Workshop, Glasgow School, Art Nouveau and Prairie School. The quilts reflect them well. They look doable and fun for any method of choice and level of skill. Most include appliqué. The 1890-1925 quilts are simple designs and patchwork patterns. Here the fabric is the essence of the reproduction quilt. Later, when embroidery was a popular needlework activity, appliqué patterns reflected the floral designs. Some quilts used both appliqué and patchwork. In the back of the book, you'll find a pull-out section of full-size templates and suggested quilting designs.

It seems to me there are more old photographs in this book, than in the other books; and they show furnishing patterns and clothing. The best photo by far, though, is not very old, although it is black and white; and at first glance, it appears to be from the Aesthetic period. It shows a beautiful woman with extremely long hair, wearing a long flowing dress, sitting on a swing made from vines, in a nature setting. She has a blissful dreamy expression … oh it's Barbara! Turns out she was posing for a photography student friend in 1970.

Large swatches of original fabrics and reproduction prints are featured in exacting color photographs. Smaller quilt pictures show vintage ones. What is great, especially for someone new to dating fabrics, is that she goes back to the beginning dye history of a color and brings it forward to the focus of the years the chapter covers. It also jogs the memory for those who read her earlier books. Again, the word concise comes to mind, in the best of meanings.

Buy her new book now by pre-ordering through Amazon. They will send it when they get it. Pre-orders are sent first come, first serve. Estimated release date is August 5, 2008.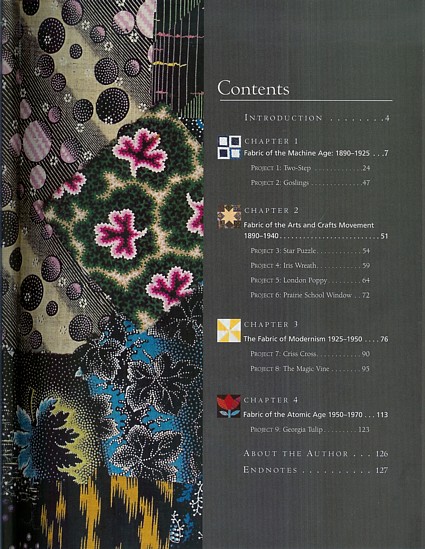 And if you don't have America's Printed Fabric, 1770-1890s, it is still available.