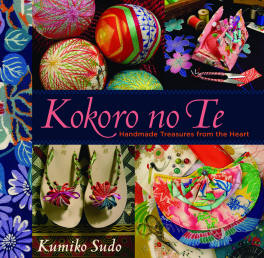 If you enjoy sewing by hand, or want to learn how, this book provides sophisticated, useful, chic and beautiful tiny projects. They can be made for gifts, or your guest room, or simply to please your feminine side. Each item is small and portable. One-eighth yard is enough for most of the projects. Kumiko uses Japanese-figured silks and cottons, threads, beads and felt. No special tools are needed. In total, there are 30 projects. Kumiko writes that most can be made in less than 4 hours, but they donít look like it.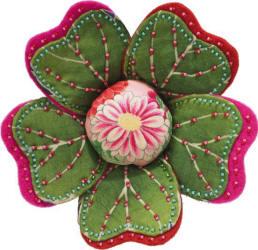 I have rarely seen so many different types of pincushions and sewing kits in one project book. Many styles reflect sewing tools made in the 19th century, especially the late Victorian era . Using Japanese fabrics and brighter colors, they look entirely different.

Filling the book are beautiful photographs, viewing the tiny items close up. You can easily see beading, edging, pom-poms and other three-dimensional features Kumiko adds to them. Kumiko uses the highly patterned Japanese prints in interesting ways which make it look like more piecing was needed to make the item.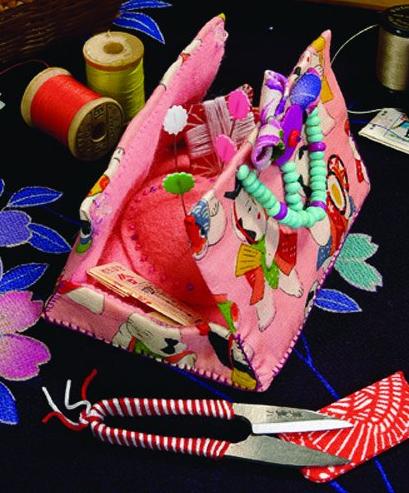 Simple shapes are used to make the items. The patterns to trace are at the end of the book. Located by the item in the text are instructions and illustrations. They are easy to follow and the drawings definitely help, not hinder, the accomplishment of the project. Most of them appear to be very simple but a challenge, because they are small. As seen in Kumiko's other books, she brings three-dimensional shapes to the American quiltmaker. The beading, threadwork, and fabrics make the piece look rich and chic. Although small, they make a big impression.
The projects she has chosen are functional as pouches, pockets, pincushions, bags, balls, s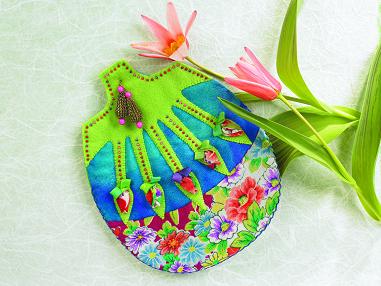 ewing kits, and pins. The pins can be used for hats, lapels, shoes (see photo at end), quilts, barrettes and pony tail holders. These handmade treasures are delicate to look at but can carry soaps, sewing, cosmetics, dried flowers and coins.
Kumiko combines her Japanese heritage aesthetics with contemporary American fashion sensibility and flair. If batiks is your thing, or reproduction fabrics, use those and get an entirely different look, but just as graceful. The more traditional patterns she makes are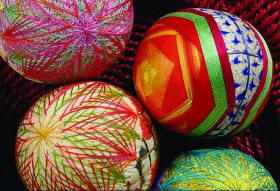 Temari Balls and small kimonos that hang from wooden stands.

One of the items is a traditional Japanese thimble. They are soft and fit down on your finger, not over it like American thimbles. They are thick with felt and threadwork decorates them. If made larger they could be a ring or bracelet.

This book would be a wonderful gift for someone who loves to do handwork. Breckling Press Publishing is known for their colorful ,well made, attractive and stylish books. It retails for $27.95. Check Amazonís price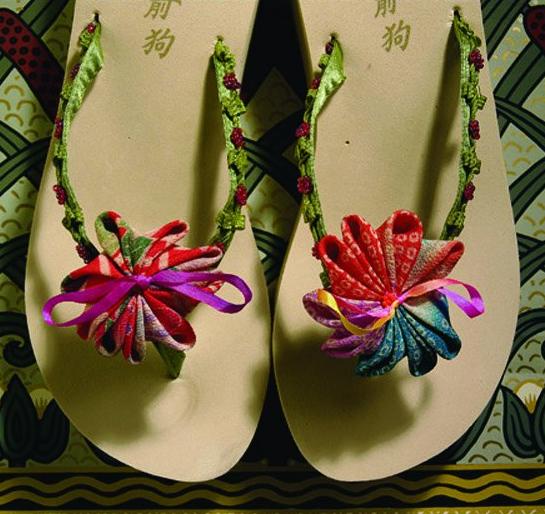 Book publishers and authors: if you would like your book reviewed on this Website, and it falls within the scope of topics, please contact me.