Quilt History
Today's Quilt Historians
Underground Railroad
Women at Work
---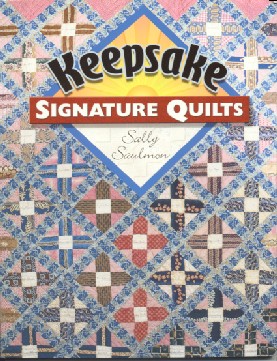 When color and lightfast ink -- called indelible ink -- was finally produced, the fad for signing one's name on fabric began. Women signed quilt blocks to combine them into quilts as goodbye memories to those moving westward. The signature quilt fad lasted quite a long time -- from 1840 through the1870s. A more fast ink came into use around 1835, but the expansion westward is what actually brought about the desire for signing quilts like autograph books. It gives me pause each time I remember that westward expansion at that time could be a move from Massachusetts to Ohio! The far western states were still a journey far too treacherous for most families to undertake. The lure of California in the early 1850s, changed the minds of many who were then willing to come across the mountains and wilderness to find their riches. Research tells us few quilts were actually made while on this long and difficult journey, but many were brought along to keep them warm and use in their new homes.

Sally Saulmon put an 1847 quilt on the cover of her book, Keepsake Signature Quilts, which is reason enough to buy this book. The blue fondue sashing and Turkey red prints are so beautiful together with the steam colors in the printed plaids, indigos, browns and buff stripes. I found the interior of the book visually enticing as well. Sally has used new reproduction fabrics to make her sample quilts and blocks throughout the book, as well as contemporary fabrics. She uses reproduction shirtings, stripes, serpentines, large and small florals, indigos, 30s prints, rainbow prints, and tone-on-tone calicos in striking and intriguing ways. The settings and quilts on her samplers offer more to the quiltmaker than just the pattern. She helps you to look at your fabric differently and the results are beautiful.

There are 24 different patterns in the book. For some, the actual quilt is shown in a full shot, with a detail shot of the block. The colors are clear and the fabric's design is easy to make out. Rotary cutting instructions with diagrams accompany each pattern. Sally makes it easy to use each pattern.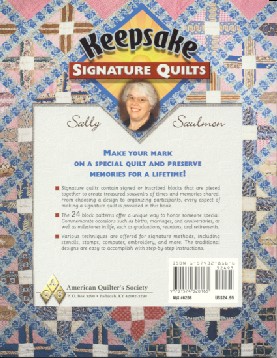 Beginners will have no problem using many of the patterns in the book. The addition of signatures or sayings makes the simplest block, like rail fence, unique. The more advanced quiltmaker will appreciate her use of fabric to enhance blocks with which they are already familiar.

Sally correlates the fabric's print with the mood or occasion set by the signature or saying. By adding multi-pieced strips and turning simple signature blocks on-point, quilts look more complex. She likes the scrap approach and uses many fabrics in one or two main color tones in a quilt. She has a very good eye for arrangement and value.

Sally offers the reader information on various signature and text marking techniques. She describes seven methods, ranging from pens, to machine embroidery, to copiers. Most of her samples have names, cities, or a sentence of friendship. She also gives some valuable information on how to make and conduct a group signature quilt project. You will find her tips helpful.

This book offers more than signature methods as the name implies -- 112 friendly pages draw you in and help you make use of your repro stash fabrics in new ways, fast and easy.

Click here for more information about Signature and Album quilt history.

Book publishers and authors: if you would like your book reviewed on this Website, and it falls within the scope of topics, please contact me.
© 2004 - 2016 Kimberly Wulfert, PhD. Absolutely no copies, reprints, use of photos or text are permitted for commercial or online use. One personal copy for study purposes is permitted.
Fabrics & Dyes
Rugs & Textiles
Books & Reviews
Resource Links
Home
---
Visit my
online shop ...
for quilt history lovers!
* Gifts & Jewelry,
* Books & Stationery,
* Archival Supplies,
* DVDs,
* Quiltmaker Supplies.