"Hand Piecing with Jinny Beyer : AOne-on-One Tutorial with
Master Quilter Jinny Beyer" and "APatchwork Notebook"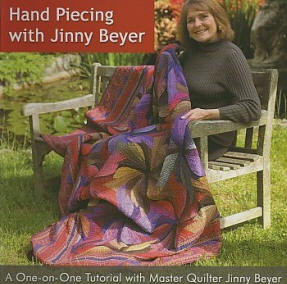 Jinny Beyers's new CD is taken from her book Quiltmaking by hand: SimpleStitches, Exquisite Quilts. For me, who prefers to do machine piecing , theCD is the perfect version in which to look at the possibilities of hand piecingand understand how it is done quickly with precision in mind.

There are several segments with shortvideos that give you the verbal and visual experience of piecing by hand,including threading a needle and making knots, piecing straight lines andjoining them together, forming stars, and joining angled segments to make a mariner'scompass. Jinny shares tips on how to get many stitches onto one needle thatkeeps the stitching straight on the front and back. She is speed piecer tobe sure.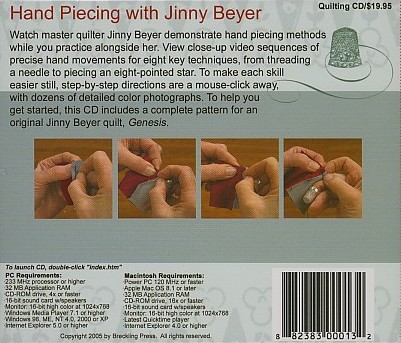 TheCD also provides still photos from the book, with written instructions undereach photo on the same subjects. There are some templates included for a quiltpattern of Jinny's that uses all of the various methods she taught, but not theMariner's compass.

This short CD is good idea for beginners,a group, or an experienced quilter who has trouble keeping the stitchesstraight, or perfectly matching the center points of 8 pointed stars. Jinnybelieves it is easier to hand piece than machine and faster too because it isportable. After watching this CD, I think it is possible she's right!

(Amazon lists this CD as not yetavailable, but this is wrong, it is available now and can be ordered throughthem for a quick delivery)


A Patchwork Notebook

There are alot of personal journalsfor quilters on the market
today, as well as books for recording the quilts onemakes. This journal or notebook is different from those in a few ways.

It is hardbound with a cover that reflectsJinny's Far Eastern style of fabric in blues and dark and lime green. A claspcloses it with an invisible magnet that flips up from the back. It feels morelike a diary, and we historians love diaries!

Inside the pages are a grey-bluecolor, peaceful and calm, with lines and a space for the date. On every third orfourth page Jinny provides sewing by hand in general, and quilting tips and guidelines,in the personal and warm manner we associate with her teaching. Each thought iscomplete and thorough in it's presentation, not just one line, but a paragraph.In other words, these are useful!


On the opposite of each tip pageshe has chosen an old quote or story and sometimes a picture. She quotes fromauthors, such as Marie Webster and Ruby McKim, and lesser known authors. Thesequotes tell us about how women thought to do their quilting and pattern marking,the tools they used and why, making quilt frames, and designing their quilts.Here's one of my favorites, written by Ruth Finley in 1929:

"Ninety nine percent of all pieced quilts represent the working outof geometrical designs, often so intricate that their effective handlingreflects most creditably on the supposedly non-mathematical sex."

OldPatchwork Quilts and the Women Who Made Them
The last pages are graphed out into1/4" segments, for those creative impulses that hit while you are writing.Attached to the back inside cover is a pocket to hold notes, scraps, pictureswhatever reminders you need on your quilting path. It's a small enough journalto keep in her purse at shows and on tours.

This is a lovely journal and fun toread and own. For $15.95 or $10.85 from Amazon you can't go wrongconsidering this book as a gift or thank you to your quilting friends.
FLOWER DAYS: An Origami-InspiredCreativity Journal
Breckling Press has published avery similar journal, in style and format, by Kumiko Sudo that teaches thewriter about Origami folding for paper or fabric.
Instead of quotes, Kumiko putillustrations on how to sew her various three dimensional origami style flowers.The basic color is pink, rather than blue. Kumiko shares where her inspirationcomes from in nature. She has templates in the back that are the correctsize for the flower patterns and there are blank pages for drawings.
Kumiko suggests folding paper orfabric to calm yourself before bed!