Quilt History
Today's Quilt Historians Underground Railroad
Women at Work
---
New Pathways into Quilt History written by Kimberly Wulfert, www.antiquequiltdating.com


Book Review by Kimberly Wulfert, PhD

Design Explorations for the Creative Quilter:
easy-to-follow lessons for dynamic art quilts
by Katie Pasquini Masopust C&T Publishing 2008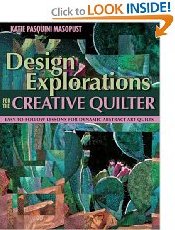 The text Katie writes is focused on her own thinking processes of analysis and alternatives as she plans a quilt from finding the initial concept to the various ways you can turn your idea or photo into a one-dimensional design. She includes her methods known as ghost layers, fractured landscape and the painterly painterly approach.

The chapters in Katie's book are the sequential steps for developing your visual into fabric. Each chapter is short and to the point, heavy on diagrams and photos to show many examples of what she is talking about.

This is not a pattern book. It is a book about developing the design and method for your quilt using the principles of design for painting and wall art. Construction techniques are a very short couple of chapters at the end of the book.

Katie presents a great deal of information in such a way that anyone could follow her method or use it as a reference for idea generation and color and design compositions. Gallery photos of many finished quilts are also located at the end of each chapter. Katie's and her students work are inspirational and stimulating to the creative mind.

What I also like about the book are the multiple examples in illustrations, colored drawings, and fabrics, to support every point Katie makes. For example, when she discusses myriad color combinations possible using the color wheel, sixteen printed fabric swatches in a block demonstrate each combination resulting in 44 color schemes from twelve colors on the wheel.

Her use of actual fabric swatches simulates being in her class to watch her give this lecture. The impact of seeing actual prints rather than solids colors as is typically seen in the color wheel is significant.

© 2009 -2011 Kimberly Wulfert, PhD. Absolutely no copies, reprints, use of photos or text are permitted for commercial or online use. One personal copy for study purposes is permitted.
Fabrics & Dyes
Rugs & Textiles
Books & Reviews
Resource Links
Home
---
Visit my
online shop ...
for quilt history lovers!
* Gifts & Jewelry,
* Books & Stationery,
* Archival Supplies,
* DVDs,
* Quiltmaker Supplies.