Women's Symbols of Endurance: QUILTS
Kimberly Wulfert, Curator at the
Stagecoach Inn Museum
in Newbury Park, CA 2002
Continued from page one . . .


Some of the quilts in the exhibit were displayed in this replica of a one room schoolhouse, ca 1880, which is part of the Stagecoach Inn Museum. The Conjego Valley Historical Society supports the multi-building museum located in Newbury Park, CA, northwest of Los Angeles. You'll see blackboards and old school desks in the next pictures.


ENGLISH FLOWER POT, ca 1930
Once owned by Florence Bohan, Enid, Oklahoma, was loaned to the exhibit by her niece, Kathleen Hendrickson from Agoura Hills, CA.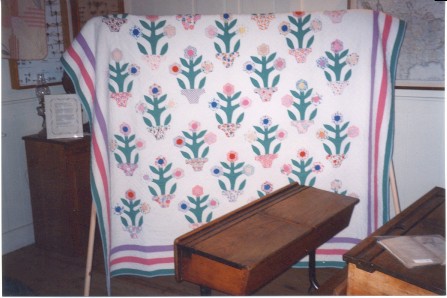 This pattern is the type found in newspaper pattern columns popular in the first half of the 20th century. The "Nancy Page" patterns offered one similar to this. Florence LaGanke used this pen name to write her syndicated column in many periodicals from the late 1920s to 1940s.
It is made of cotton, machine pieced, with hand appliqué and quilting. The quilting patterns form clamshells, squares and hanging diamonds, which are reflective of 1800s quilts. The darker colored solid pastels and floral prints of the flowers, stems and pots are typical of the late 1930s and 1940s. The five narrow borders add a geometric frame to the rounded whimsical flowers in pots.


Ruby Lebus Dodson, (1888-1957), from Oklahoma City, made GRANDMOTHER'S FLOWER GARDEN, ca 1920. Ruby made her quilt with taffeta, rayon, satin, crepe, machine and hand pieced, hand quilted.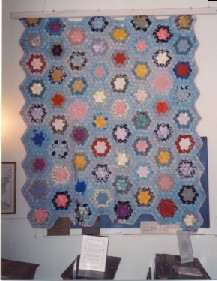 Ruby Lebus was born in Illinois in 1888. She moved to Kansas, and later met her husband, William Ray Dodson. Together they moved to Perry, Oklahoma, where Ray helped finance the first oil well in Oklahoma City. It is here that she made this stunning version of the so popular Grandmother's Flower Garden (GFG).
Why she chose to use these fabrics instead of cotton dress prints typically seen in GFG is unknown, but there is a definite elegance about it. Perhaps it reminded Ruby of glazed chintz quilts from the past.

Formerly, in 18th and 19th Century Europe, GFG was called Mosaic. These quilts were made from toiles, silks and chintz fabrics most often, and sometimes wool. Ruby's granddaughter, Shirley Cobb, from Camarillo, CA, is happy to have the quilt in her careful care now.

THREE TULIPS, 1925, was made by Lillian Cadwallander, in Denver, CO. Jan Jones, her relative lives in Thousand Oaks, CA.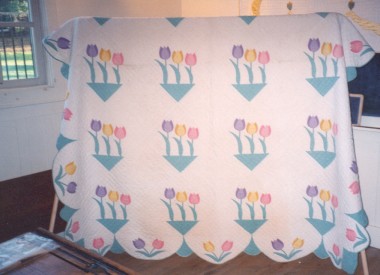 Lillian was an artist who specialized in painting roses. She also painted portraits, still life and birds. She may have designed this tulip quilt herself, or it could have been a pattern. She made it in cotton using the machine for piecing and her hands for appliqué and quilting.

The border on this quilt is a wonderful combination of an extra wide scallop with a narrow one. Also notice the overstitched appliqué stitch this artist chose to use.

This INDIAN WEDDING RING, ca 1925, Beate Keenze, from Westlake Village, CA. is standing with her quilt which she purchased at an antique show. It is made with polished cottons which shows off the gorgeous hand quilting.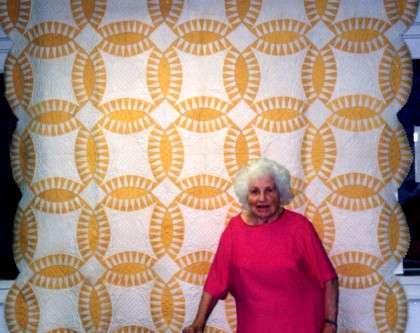 This pieced pattern is also known as the pickle dish. It is very similar to the highly popular double wedding ring but has spiked triangles instead of more square shapes forming the rings.

The solid yellow polished cotton, resembling glazed chintz, and intricate quilting designs make this beautiful quilt a classic example of pieced quilts made in the second quarter of the 19th century. Yellow quilts were not the fashion in actual colonial American quilts, however, and prints were far more common than solids.
Florence Cawthy, from Texas, made this ROSE OF SHARON quilt top in the1920s. Elaine Robinson, from Westlake Village, CA, inherited it.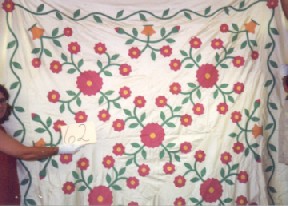 The use of solid green and pink with a little orange is a 20th century reinterpretation of the popular red and green appliqué quilts made between 1840 and 1870. The vine trail forming the border and small vases with large flowers coming out also reflect these earlier quilts. The Rose of Sharon block was hand appliquéd and the blocks were sewn together by machine to form the quilt top. To complete it, a batting, most likely cotton, and a backing fabric would be added and then the quilting stitches would hold it together. Finally a narrow binding would cover the raw edges. And that makes a quilt a
quilt!


DIAMONDS IN THE FIELD is like the Trip Around the World but on point (the top of the quilt is over the hanging rod). Both were popular designs in this time period, 1930s, but this one was seen less often. Karen Phipps, from Thousand Oaks, CA, inherited this quilt from her grandmother, Hattie Colliers Scott.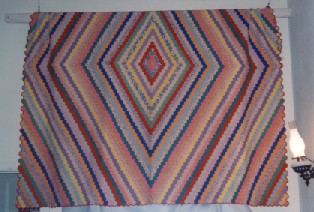 Hattie was born and raised in Oklahoma, taking part in the Oklahoma Land Rush. She moved to New Mexico where she joined a quilting bee and made this quilt. Hattie enjoyed many needle arts such as tatting, embroidery, crocheting and lace making. In 1946, she moved to California with her husband, where she lived to be 96 years old.
The quilt is made from just one template in the shape of a hexagon. The layout of the color forms the diamond shapes emanating out from the middle. Hattie, perhaps with the help of her bee, quilted around each hexagon. The binding is applied by hand, as it curves around each hexagon shape rather than a straight edge. This is a labor intensive quilt to make, and it is all done by hand.
ORANGE BLOSSOM VARIATION, ca 1930, was made by Grace Yarnell, from Birmingham, Iowa. Grace hand pieced, appliquéd and embellished the blocks with floss before quilting it. Her granddaughter, Sharon Lopatka, now owns it. She lives in Thousand Oaks, CA.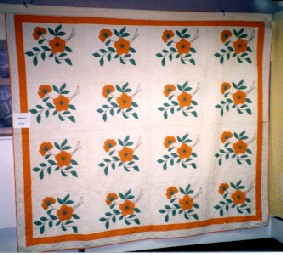 This stemmed flower may have come from a commercial pattern or kit, as there are some black ink or stamped lines visible. Grace may have purchased an iron-on transfer pattern, or it may have been a pre-stamped fabric. However, the arduous handwork of the quiltmaker is still evident by the slight variations in leaf and stem shapes.

The quilting pattern was not pre-marked. Cable patterns enhance the two thin borders, and dense feathered garland swags separate the flower blocks visually. Grace added more leaves by quilting them near the flowers. It was common in the 1920s and 1930s for women to add embroidery to block style quilts, whether they be flowers, birds, Sunbonnet Sue or Colonial Lady motifs.


---

The Stagecoach Inn Museum was a wonderful place to hold an antique quilt exhibit. Quilts were also placed in many of the period decorated rooms throughout the Inn. The museum grounds include trails and beautiful gardens, the carriage house complete with original carriages, a pioneer's cabin, a Mexican settler's adobe, and a Chumash Indian teepee furnished like it would have been long ago.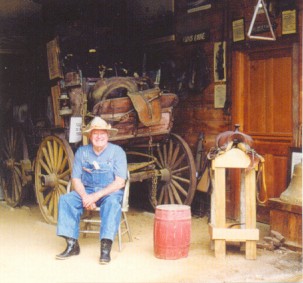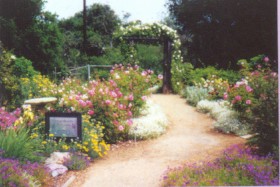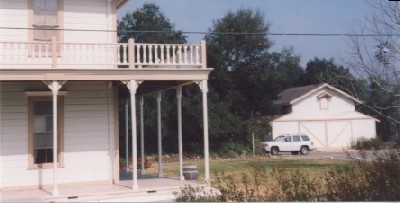 The carriage house is on the right. It holds several carriages and equipment a 19th century house would require to have on hand. It Is February in the picture above, but in the spring and summer, the gardens are alive with color and fragrance.

This living history museum is fun and educational for every one. Docent tours are available when it is open to the public, from Wednesday to Sunday, 1-4 pm. It is easy to get here by car; it is about 1 hour northwest of downtown Los Angeles and 20 minutes from Malibu's coastline. For more information and to learn about the current exhibits see museum's website: Stagecoach Inn Museum.


See also: Colonial Revival Style Quilts Turn-of-the-20th Century Influences on American Quilts and Quilting
---
"Easy Patterns for Making Your Own Colonial Revival Era Quilt"