Quilts in Quilted Planet

I asked Celia what countries were most interesting to her when researching their quilt history. As already mentioned, India and Japan textiles and culture are important to her. In addition, she especially liked learning about the Korean wrapping cloths. Traditions say the wrapping cloths embody a folk belief and convey respect for the receiver of the gift of such a cloth. They are not only for decoration, but function as wrappers, covers, and carryalls. (page 34) "The marriage of artistry, craftsmanship and symbolism is endlessly fascinating to me", Celia explains.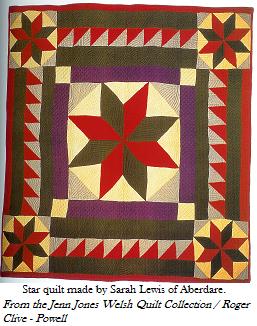 We have all heard the English term "frame quilt" for what is known as a medallion quilt in America. Celia describes a particular frame quilt, c. 1790-95 in such a manner that I now understand it differently and see a similarity but difference between frame and medallion style quilts. In a frame quilt, attention is paid to the visual relationship between each frame's particular shape of patchwork to each other or to the center shapes. The 'echoing' may skip a frame or two, but it repeats in the complex framed center medallion. She describes in the book a superb example of the English style. (page 69) Other medallion quilts in the book, with a piece of chintz in the center are in the frame style, but called chintz center medallion or chintz patchwork in the captions. (pages 148 and 86) Wales is known for its whole cloth quilts, but they also made medallion quilts from plain fabrics, allowing their dense curved quilting patterns to show well. (page 84)

I was fascinated by so many quilts in this book, but the oldest one is a contender for the best, since it is talked about so often within quilt history discussions, but rarely seen so close-up. I am referring to the linen narrative quilt about the Story of Tristram made in Sicily, Italy, c. 1359. It is a early stuffed and corded quilt, but QP explains that "quilting was a widespread and highly developed technique in Europe" by the time this was made. (page 54) The photo in the book fills the entire page. The details are clear and large; I can see the ladder stitches of the seam in the linen. Using tan linen thread, the legend of Tristram is sewn in pictures and words with a running stitch and cotton stuffing. Quilting fills much of the flat areas. The amount of work and different designs in this one area of the three large panels is unbelievable. They were either made to hang on the wall or cover the bed. Also of great visual interest is the earliest known dated quilt. It is primarily silk patchwork discovered in England in 2000, with 1718 and E.H. pieced into one of the blocks. (page 12) It takes on the look of a contemporary sampler quilt, one where the blocks are in different sizes, with pieced and appliqué blocks.

In fact, there are many examples of this early quilt style from different countries throughout the book, offering gorgeous fabrics, cut-out chintz, and appliqué. A center medallion quilt with eleven frames made by women convicts on their way to Australia. It is dated 1841 and inscribed with a dedication to the Ladies of the convict ship committee for their concern about the convicts' welfare. (page 176) Conversely, Changi quilts, where interned women in a Singapore prison (Changi prison) were made for soldiers on both sides of the WWII fighting, British, Australians and Japanese. Their embroidered blocks exemplify beautiful works of art in flowers, words, and common symbols. Sewing them would ease the maker's pain and give them hope and purpose while their life turned upside down and was out of their control. (page 182-3)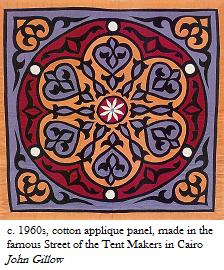 The text accompanying the photos adds meaningful information. Inscriptions on the quilts, labels, and even advice about dry cleaning are included in the text and captions. This attention to detail is important to me, making this a useful book for referencing when I write or need a fact fast.

Variations of album quilts and appliqué quilts are included in the North American Quilts section, as are Amish, African-American, Hawaiian and Central America mola styles, old and new. Quilts from European countries include Scandinavia, France, Netherlands, and the U.K. The French quilting method called boutis and the English paper piecing technique are given special attention, as are quilted clothes from France and Netherlands. The most astonishing quilt to me is from Sweden. It looks contemporary and American Indian in origin. The two large center blocks are made in coral on a black solid, with minimal quilting visible. This is surrounded by a wide border of hand dyed looking marbled aqua green. It is simple, bold and modern looking. It dates to its maker Anna Lisa Eriksdotter who lived from 1794-1875. (page120)
| | |
| --- | --- |
| | Historically, Ireland was a linen manufacturing capitol. Mill owners built housing around the mills to attract workers. They were called linen villages. A contemporary quilt made in honor of such by the granddaughter of a former mill worker in Ligoniel, records the history of this now-defunct town in Northern Ireland. Roselind Shaw embroidered 48 squares of linen, with scenes, machinery, sayings and buildings that were at the Wolfhill Spinning Mill, where her grandfather began to work at age 13 and her father after that. The squares are sashed with strips of petersham ribbon and tied with linen buttons showing on top. (page 96) this quilt will remain in Roselind's family and continue to honor her parentage and her love of fabric. |
Remember the colorwash fad in the 1990s here in the US? It began in England with the contemporary quilt designer and artist Deirdre Amsden. However there is a quilt made by Averil Colby in 1951 that uses the colorwash technique with hexagon shapes. At first glance it looks like a Colonial Revival quilt from the early 20th century, American made. Averil called it High Summer, and Celia says it was an unconventional pattern for it's time. The floral hexagons form a wreath, garland inner border and other motifs.

Averil's, Dierdre's and the colorwash fad quilts reflect a quote in the book's introduction perfectly; "All of these traditional styles and techniques have deep roots. Surprisingly often, their gradual evolution can be traced back hundreds, or even thousands, of years, and all bear witness to the universal and perennial love of needle craft that unites all quilt makers." (page 6)

The British Quilt Study Group

The BQHG began in 1998 with the combined efforts of Celia, Bridget Long, and Dorothy Osler as officers, and others, under the auspices of The Quilter's Guild of the British Isles. I asked Celia if the American Quilt Study Group, which she joined 10 years ago, influenced their British Study Group organization. Yes, indeed she said, "AQSG was definitely the model for BQSG. The other people who were particularly keen to see it established were Bridget Long, then Heritage Officer of the Quilters' Guild of the UK, and the quilt historian Dorothy Osler – both also members of AQSG. In fact, Bridget invited me on to the Heritage Committee with the specific brief to establish a British Quilt Study Group. Shortly after that, Bridget had to retire from the Committee to become President of the Guild and I took over as Acting Heritage Officer, in addition to my role as Co-ordinator of BQSG. Everyone concerned with the setting up of BQSG looked to AQSG for ideas and inspiration, but there was a tendency, early on, to overlook the fact that the UK quilt history scene bore very little comparison with that of America; the sheer difference in geographical size and the quantity of quilts and information, and the fact that US has a continuous tradition of quiltmaking which just doesn't exist here, means that we don't have large numbers of dedicated quilt researchers."

Celia ran the BQHG for the first five years, edited and published their Journal, Quilt Studies, and their quarterly newsletter, Culcita. They started an annual seminar that meets in different places in the U.K.. This fall they are meeting in Belfast, N.I. I asked her to tell me more about their group today. The papers read at each Seminar are in their journal.

"BQSG was set up with very limited funds, as a Special Interest Group within the Guild. At most, BQSG has a membership of just over 200 members supporting it with their membership dues. It's at the annual Seminar week-end that all people, about 40-50, who are seriously interested in, and knowledgeable about, British quilt history gather."
"It might be worth adding that many Americans have expressed an interest in joining BQSG but have to first to become a member of the Guild. This is because BQSG was set up and funded as a Special Interest Group for its members and the Guild, which is a charitable organization, cannot legally fund another, independent organization. This may limit its international membership but does, at least, ensure its continuance"

Conclusion

I want to thank Celia for this interview and the photos. It was a pleasure for me to get to know her and it is my hope others have come to know her a little better now too. One day we'll meet in person. As it turns out, two of her sisters-in-law live with their families in the Los Angeles area near me. Will we meet on this side of the pond or at The Brown House?…my answer would be no secret.

I highly recommend this book for yourself and as a gift. Give it to someone who loves geography or cultures or history and soon you'll have a converted friend to go to quilt exhibits with you, or a more informed experience at museum exhibits. Also, there is desire to look at these photos over and over again. The photos of the old fabrics, quilting patterns, styles of quilts generate lots of ideas in my mind for reproduction quilts and art quilt techniques.
---
The Brown House - For a brochure about visiting her home, contact Celia by email celia.eddy@btinternet.com

Books written by Celia: Click on the title for more information.
Celia runs QuiltStory, the UK on-line quilting magazine www.quilt.co.uk
BQSG - For back copies of their journal, go to: www.quiltersguild.co.uk.

Return to page one.