Quilt History
Today's Quilt Historians
Underground Railroad
Women at Work
---
New Pathways into Quilt History written by Kimberly Wulfert, www.antiquequiltdating.com


Book Review by Kimberly Wulfert, PhD

Big One-Star Quilts by Magic
– new book by Nancy Johnson-Sebro
Easy to Make Star of Bethlehem Quilts for Christmas Gifts.
Big One-Star Quilts by Magic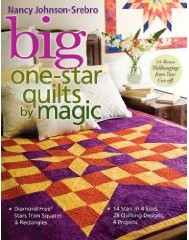 The patterns in this new book by Nancy Johnson-Srebro make it fast and easy for anyone to make Star of Bethlehem or Lone Star quilts. There are no diamond shapes or Y-seams. There are no bias edges. Nancy's patterns are only made with squares and rectangles.

Fourteen star pattern designs vary in their design and are easy enough for beginner-level quilters. From simple to complex-looking, the traditional looking patterns look like they were in fact made with diamonds, and they aren't! Easy cutting techniques, using rectangles and squares, are all that Nancy uses to give the effect of diamonds. She has eliminated all "Y" seams from adding the background to the star. And, she provides cutting sizes and diagrams for four sizes on each pattern.

I would recommend choosing fabrics without a directional print for certain blocks where you want the seams to be invisible. Nancy shows each pattern made in fabric in two starkly different colorways. This really is the key to getting the look you want in the end. Usually there are three to six colors of fabric used in each finished quilt top shown. The pieces are rather large, and the color layout can change the entire look.

Fourteen additional patterns are included -- mostly made with fabric left over from cutting the star pieces! They make perfect backs for the star. Additional fabric for borders may be needed to get the same size. Be "green' and reuse, recycle, reclaim your scraps for the back or for another quilt top. Is this the 21st Century's version of the "economy quilt?"

Nancy illustrates two completely different and fabulous quilting patterns for each pattern. They are unique, complex-looking, and beautiful enough to use on whole cloth quilts as the only form of design. Whether you are quilting by hand or machine, there are no templates for the stitched designs or continuous line diagrams, but the illustrations are clear and easy-to-see; you draw your own and enlarge them to mark the quilt. You can choose from feather patterns, stars, circles, or diagonal and curved lines. There are too many designs to list here, but they range from easy and simple to different pattern combinations forming smaller designs and tighter coverage.

The result is a quilt top almost completely covered with stitching, as tops would have been in the early 19th century, when that was the style; it was necessary to hold cotton batting in place. In Nancy's diagrams, areas of one color are detailed out by the quilting pattern filling that color and drawing the eye away from seams. The patterns accentuate the big star.

Check out the diamond-free method in Big One-Star Quilts by Magic yourself. Traditionalists can take a break from the original Star of Bethlehem pattern and make two, three, even four of these patterns as gifts in less time. No one receiving your gift will be the wiser.

© 2008 - 2015 Kimberly Wulfert, PhD. Absolutely no copies, reprints, use of photos or text are permitted for commercial or online use. One personal copy for study purposes is permitted.
Fabrics & Dyes
Rugs & Textiles
Books & Reviews
Resource Links
Home
---
Visit my
online shop ...
for quilt history lovers!
* Gifts & Jewelry,
* Books & Stationery,
* Archival Supplies,
* DVDs,
* Quiltmaker Supplies.