Quilt History
Today's Quilt Historians
How to Do Quilt Research
How to Date Antique Quilts
Underground Railroad
Women at Work
---
New Pathways into Quilt History written by Kimberly Wulfert, www.antiquequiltdating.com

"Facts & Fabrications:
Unraveling the Story of Quilts & Slavery"
New book by Barbara Brackman
"Facts & Fabrications:
Unraveling the Story of Quilts & Slavery"
Barbara Brackman, C&T Publishing. November, 2006
112 pages, $27.95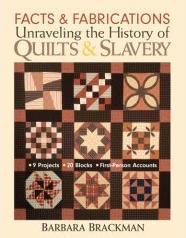 One of the hottest topics in the world of Black History is the story of quilts and the Underground Railroad. Americans eager to discuss slavery and emancipation are fascinated by tales of quilts used as codes and signals in the dangerous journey to freedom. The connection between a great American folk art, a mysterious secret code and the adventure of the Underground Railroad has created an enduring tale that is fast becoming a part of American legend.

The role of quilts in the Underground Railroad has gained wide acceptance, becoming part of today's classroom learning for children and adults. Countless school curriculums include instructions for a quilt made in the secret code. Museum personnel organizing exhibits dedicated to the topic of escape from slavery feel obligated to include a symbolic quilt. Historians often are asked questions such as:
Is it true that quilts were hung on clotheslines to signal escaping slaves of a "safe house"?
Were quilts read as maps to tell escapees the route to safety?
Did runaways use quilt patterns with names like the Double Wedding Ring or the Drunkard's Path as code to communicate escape plans?
As a historian who has focused on both textile history and the Civil War period, I often have to explain that the story of quilts as code for those escaping on the Underground Railroad is a myth rather than a historical fact. My standard short answer: "We have no historical evidence of quilts being used as signals, codes or maps. The tale of quilts and the Underground Railroad makes a good story, but not good quilt history."

Historians, folklorists, museum curators and other professionals who study slavery and American history are quite frustrated that the myth of coded quilt patterns is becoming as established a cornerstone of American history as other appealing but false tales like George Washington chopping down a cherry tree or Betsy Ross designing the first American flag.

Last October, the American Folklife Society, the leading organization for professional folklorists, hosted a panel examining the accuracy of such stories. There is no lack of accurate information in print and online. When confronted by such historical facts, the general public refuses to believe these myths are fabrications. Some seem to view historians and folklorists as a gang of bullies, ready to pounce on a charming and innocent story.

Historians, frustrated by myths that will not die, find the best that they can do is offer an accurate history, one some people might choose to accept. Yet, we do not want to leave the quilter, the curator, the story teller and the school teacher without the important hands-on learning tool that quilts can lend to a curriculum on slavery. Rather than removing the art of quilting from the story I hope to give them a historically accurate account of how quilts figured in the lives of enslaved African-Americans.

The book will include patterns for twenty quilt blocks to represent twenty chapters in the story from Africa to Reconstruction. Names like "Catch Me If You Can," "Lincoln's Platform" and "Lost Ship" are perfect for symbolizing various events, but it is important to emphasize that these patterns have NO historical connection to slave-made quilts. We can look at my pattern choices as an exercise in poetic license. Every artist knows the importance of symbolism in personal expression. Quilt pattern names are a form of poetry, imagery that can evoke the past and words that can add layers of symbolic meaning to a quilt's visual beauty. In this book I give ideas for using pattern names as well as color and fabric style to create quilts symbolizing the story of slavery and freedom.

Reprinted with permission from Barbara Brackman

Fact Sheet on The "Quilt Code"

Other articles on the UGRR on my site.

* UGRR

© 2006 - 2016 Kimberly Wulfert, PhD. Absolutely no copies, reprints, use of photos or text are permitted for commercial or online use. One personal copy for study purposes is permitted.
Fabrics & Dyes
Rugs & Textiles
Books & Reviews
Resource Links
Home
---
Visit my
online shop ...
for quilt history lovers!
* Gifts & Jewelry,
* Books & Stationery,
* Archival Supplies,
* DVDs,
* Quiltmaker Supplies.