Quilt History
Today's Quilt Historians Underground Railroad
Women at Work
---
New Pathways into Quilt History written by Kimberly Wulfert, www.antiquequiltdating.com

Antique Sewing & Needlework Tools
- Collecting Bone, pg 3
Text and Photos by Gloria Brunning, Needleworker
This is a tape measure. It is very delicate and has been well used.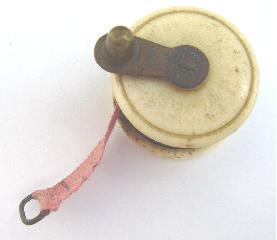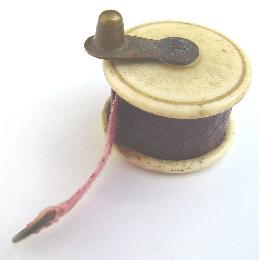 Using a similar shape you can get a pincushion and a needle cleaner and sharpener.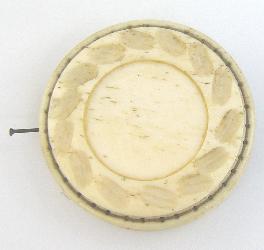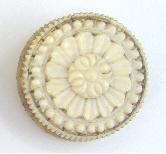 | | |
| --- | --- |
| | The smaller item is the sharpener. It is called an emery cushion. It was important to look after your pins and needles, keeping them sharp and rust free. |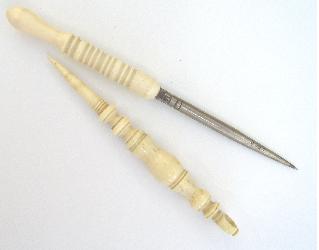 These are examples of stilettos – one all bone and the other combining bone and steel.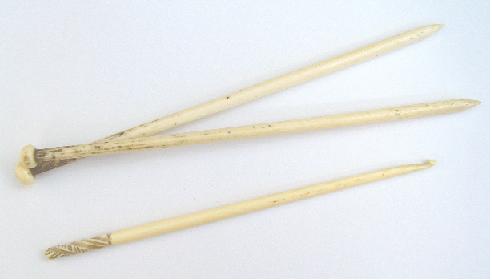 Bone was also used for knitting needles and crochet hooks. It is amazing that anyone could fashion such pieces without snapping them!
Antique Sewing & Needlework Tools - Collecting Bone, page 4
Article text and pictures Copyright © 2007 by Gloria Brunning. All rights reserved.
* Women (and Men) at Work

© 2007 - 2015 Kimberly Wulfert, PhD. Absolutely no copies, reprints, use of photos or text are permitted for commercial or online use. One personal copy for study purposes is permitted.
Fabrics & Dyes
Rugs & Textiles
Books & Reviews
Resource Links
Home
---
Visit my
online shop ...
for quilt history lovers!
* Gifts & Jewelry,
* Books & Stationery,
* Archival Supplies,
* DVDs,
* Quiltmaker Supplies.