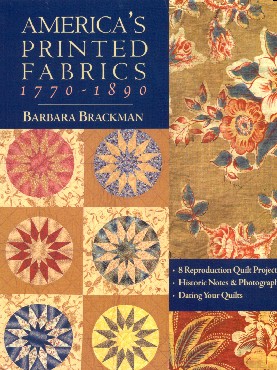 Quilter's Hall of Fame inductee, Barbara Brackman, offers her newest book about America's cotton fabric history and quilts that were made from 1770 - 1890 . This book will not disappoint. In today's terms, it is eye candy. Your eyes will smile and your heart will leap as each page reveals itself.

It is a page-turner because the fabric swatches are plentiful, large enough to reveal minute detail, and the color is true. Both antique and reproduction fabrics are pictured and described. Today's quiltmaker will find Barbara's comments about reproduction fabrics useful. Sometimes she places old and new swatches side-by-side to help train the reader's fabric eye, being aware that the more experience a quilter has looking at antique fabrics, the more discriminating her choices will be at the quilt shop or online. Not everyone has the opportunity to view antique fabrics in person. This book helps to fill that void.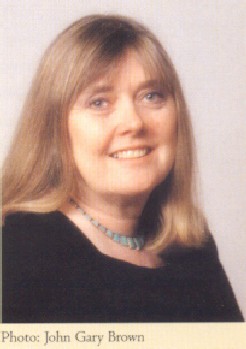 The book is divided into four chapters placed in chronological time. She goes into detail on rainbow prints, Prussian blues, Turkey reds, French Provincial prints, plaids, pillar prints, the madder style, toiles, paisleys, shirtings and more. Along the way, she discusses how printing methods developed and changed the look of fabrics with each new invention or dye. She keeps this brief and easy to read.

Throughout the book, there are what I call, 'Barbara's signature vignettes.' These are her colorful, still life pictures, combining antique fabrics, daguerreotypes, ephemera, sewing tools, clothing and everyday household décor found in 19th century homes. As a bonus, she teaches the reader about various of types of old photography, daguerreotypes, ambrotypes, tintypes, carte de visite, to name a few, using her collection of those depicting dresses and textiles of the period. Brief personal quotes taken from old diaries, letters, and other historical writings are placed here and there. I really appreciate her providing specific dates when possible, and a narrow range when not, with the photos, quotes, quilts and fabrics.

Barbara gives the reader eight reproduction quilt projects. She pieced and appliquéd seven of the eight pictured. Templates and instructions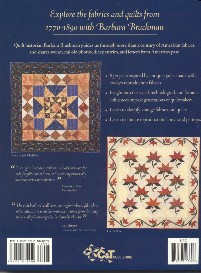 for rotary cutting, including shortcut methods, are included. Machine quilting pattern suggestions with a miniature diagram are provided. Cactus Rose, (see the back cover photo, lower right quilt) is hand quilted and includes the feathered garland quilting pattern in full size. For more inspiration and study, reproduction quilts made by outside contributors, and antique quilts are pictured. The small size of these photographs suggests their main purpose is to help the reader discriminate the differences between time periods, using a quilt's color scheme and style.

This book may be a better choice for the individual just starting to learn about textile history than Barbara's 1989 classic "Clues in the Calico," because it is less dense in terms of text and details. By no means is it shallow for those entrenched in textile history; some of the information in "Clues" is updated, and historical influences are further defined. Show, or better yet, give this book to your quilt friends who think old fabric is grayed out and ugly!

Barbara describes her book as soft on fabric science and high on the how-to of making choices, choosing fabrics and quilt styles appropriate to a time period. America's Printed Fabrics, 1770-1890, brings Barbara's considered opinions, research, and years of experience to each subject she discusses. It is filled with pictorial gifts from her trained eye and accumulated facts from a variety of disciplines and historical sources. The old photos, swatches, and quilts make it easy for anyone to begin to appreciate our textile history. This book is a 'must have.'
Footnotes end each fact-filled chapter. A list of commercial patterns (when available) and quiltmaking basics finish the book. This makes 128 pages to languish over and enjoy again and again.

You can order this book at a discount now from Amazon. Your purchase helps support this Web site. Thank you.