A 19th Century Journey . . . continued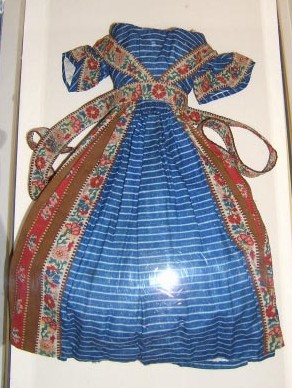 Before continuing on to the final gallery, I took a detour to a small room off to the side, which held a fantastic collection of chintz yardage; a beautiful c. 1820 doll's dress; and a charming collection of three 19th century children's dresses, each in excellent condition (see below). Also displayed were a beautiful paisley shawl c. 1870, a collection of cheater fabrics from different periods, and a large wood block used for printing fabric. There was plenty of comfortable seating in this room and I sat for a long time reading all of the informative signage. Of particular interest to me was a piece of early American chintz, sporting its' original label from the Bloomfield Calico Print Works, (thought to have been located in what is now a part of Newark, New Jersey) displayed next to yardage from the same period which was likely English or French in origin.
The third and final gallery held the balance of the collection; approximately 22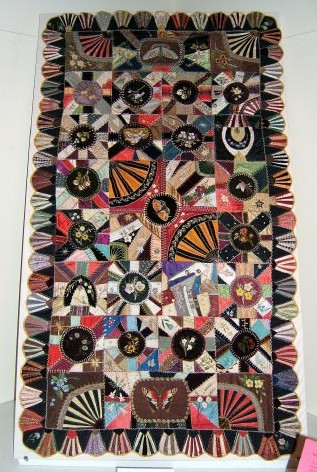 quilts illustrating a complete variety of quilt making styles made from 1850 through the end of the century. There was a beautiful Mariner's Compass with extraordinary appliqué, two Flying Geese quilts (each with a fantastic array of fabrics), Lady of the Lake, Turkey Tracks, Churn Dash, Friendship Star, Carpenter's Wheel, Flower Basket, 9-Patch, and others. The end of the century was represented by a collection of dramatic wool and silk quilts in Log Cabin, Roman Bars and Basket Weave patterns. If you are a crazy-quilt fan, you will love the stunning example made by Ann Marie Failing Brown c. 1881. Mrs. Brown made this quilt at age 72, according to the label on the back. This quilt includes butterflies, horseshoes, and at least one bluebird. The blocks contained embroidered, appliquéd, painted, and folded silk ribbon flowers. It had an intricate scalloped border composed of pieced fans and the edges were bound with gold-colored ribbon.

Next, it was time to make my way to the Education Building to hear nationally acclaimed quilt historian Shelly Zegart present her lecture, Political Quilts: A Woman's View. Shelly took us on a walk through the past for a look at how 19th century women used their quilts to express their views about a range of political, social and economic issues. We explored the use of popular political symbols such as eagles, flags, and pictures of the candidates themselves by viewing slides of quilts with these images.

Shelly closed out the 19th century with a discussion of war quilts and suffrage quilts. She took us into the 20th century; through the Great Depression, the work of the WPA, the decline of quiltmaking after WWII and its' resurgence in 1971 with the exhibit at the Whitney Museum. To quote Shelly, "these quilts are not made by women with lightly-held beliefs!"

She wrapped up her talk with slides of modern day political quilts featuring such topics as the Oklahoma City Bombings, AIDS, Guns, Immigration and September 11. Shelly reminded us that we have only the quilts to speak the opinions of 19th century women, but today, we are lucky enough to have both the artist's voice and her quilt to speak for her.

I returned the following day to see the quilts once more; to meet and talk with quilt historian and Quilt Appraiser Elizabeth (Beth) Davis; and to hear a talk on Crazy Quilts by Dee Stark, published author from Guilderland, NY. Dee is a friendly, lively speaker who clearly enjoys her topic and her audience. I must admit that I am not well informed about the symbolism of Crazy Quilts and I was not sure that I had the available disk space in my brain to store such details. However, Dee's enthusiasm was infectious and she hooked me in with her expertly woven tale of the popularity of Oscar Wilde in the 1880's and the resulting Aesthetic Movement.

We studied nature-inspired images of butterflies, animals, birds, flowers, spiders and feathers. Dee had brought beautiful quilts from her collection for all of us to view. The crowd screamed when Dee showed a slide of a quilt from Penny McMorris's book Crazy Quilts. The caption below the quilt on page 51 of the book reads, "Crazy Quilt by Mrs. Daniel McWilliams c. 1882...who added two taxidermically stuffed chipmunks at the bottom to give her quilt that unique finishing touch!" Indeed! Dee ended by cautioning us about dates found on crazy quilts. She said that, whereas a date on an early quilt is usually the date when the quilt was made, on a crazy quilt, the date might be a birth date, a date of death, or the date of an important event.
After Dee's informative presentation, I walked out to the Education Center lobby to view the demonstrations. Talented quilters were demonstrating techniques for constructing a beautiful Star Medallion Quilt, as well as hand quilting and hand appliqué. I was fortunate to meet Carol Altemus, a Genesee Valley Quilt Club Member, who was quilting her own beautiful replica of the Red and Green Medallion Appliqué "logo" Quilt I spoke of earlier. The museum gift shop sells the pattern for this extraordinary quilt and Carol, in making her quilt, was testing that pattern. She had chosen a black background, instead of the white used in the original, and it was striking. Carol is shown here (at right) holding her quilt with museum interpreter Barb Kramer(at left). I had earlier observed Carol's fellow GVQC member, Claire Welch, (in photo below) quilting her version of this same quilt while working in the gallery. Carol explained her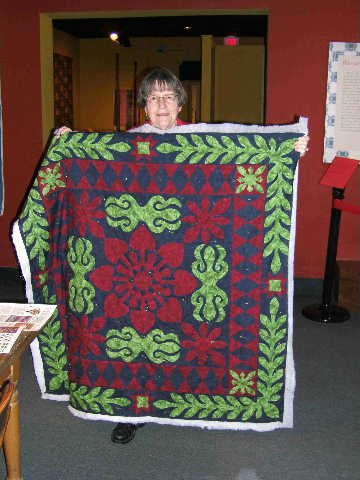 "starch and press" method using freezer paper templates for the machine-appliqué work and made it sound so easy, I may try it! Finally, Carol provided a written map for me of "the best way" to drive back to my host's home a couple of hours away-a beautiful journey through the Finger Lakes region of New York State-proving, once again, that if you need to know anything, ask a quilter!!

I highly recommend a trip to Genesee Country Village and Museum before October 31, 2005, when this wonderful exhibit ends. However, if you are unable to make the trip, you can still take your own journey through the collection by purchasing the book, A Stitch in Time: Quilts from Genesee Country Village & Museum, written by Elizabeth Davis. (catalogue review) Beth is a museum docent and member of the Genesee Valley Quilt Club. She was doing appraisals on this busy weekend and took her valuable time to meet with me and talk about the exhibit and the quilts. Her seemingly endless knowledge was impressive, to say the least. Beth has volunteered countless hours to the museum, documenting the museum's quilts, leading tours, and developing programs for visitors. Her softcover book features annotated full-color images of twenty-seven quilts from the museum's collection, a glossary of quilting terms and a selected bibliography. I purchased numerous copies!

Lorie Stubbs lives in Lakewood, CO. Her email is: lstubbs726@comcast.net.

Genesee Country Museum: Programs and Events - Quilts Uncovered.

In the National Quilt History News section of this website there is information about the museum, exhibit schedule, and hours. I want to thank Lorie Stubbs, who photographed the majority of quilts shown in this article, and also the Genesee Country Village Museum for providing the other photos we needed.

Back to page one . . .